Hormone Therapy in Birmingham
Genemedics Health Institute has long been a leader in anti-aging medicine and bioidentical hormone therapy in Birmingham, Michigan. Led by the nationally recognized George Shanlikian, M.D., Genemedics has deep roots in Michigan. Dr. Shanlikian received his medical degree from Wayne State University and opened his first clinic in Michigan. Today, Genemedics has spread across the country, with clinics from coast to coast and thousands of satisfied patients who have experienced the profound benefits of bioidentical hormone replacement therapy in Birmingham. All of Genemedics' doctors are board-certified by the American Academy of Anti-Aging Medicine and are experts in administering pioneering Genemedics anti-aging programs.
Will Bioidentical Hormone Replacement In Birmingham, Michigan Help You?
Most people associate hormone deficiency with the elderly. In reality, however, hormone levels begin to decline in many people as early as age 35. Research has shown that:
Testosterone production in men begins to decline in the mid-thirties at 1-2% a year, resulting in the gradual onset of symptoms, including hair loss, lower energy, weight gain, lower sex drive, high cholesterol, and reduced mental sharpness.
Estrogen and progesterone levels begin to fluctuate in women in the mid-thirties as women enter perimenopause. This is the stage before premenopause and menopause. This fluctuation in hormone levels can result in increased depression and anxiety, trouble sleeping, unexplained weight gain, wrinkles and "crepe" skin, and an increased risk of chronic diseases like heart disease.
Tragically, many people experiencing these symptoms are unaware of the true cause of their issues. They think their symptoms are caused by normal signs of aging—or if they are aware that something is different and wrong, they visit a succession of traditional doctors, hoping to find a diagnosis and treatment program that will ease their symptoms, but ultimately finding only disappointment. If this sounds familiar to you, there is good news: your symptoms are likely caused by a hormone deficiency, and there is a treatment. We have worked with thousands of patients to completely reverse their symptoms.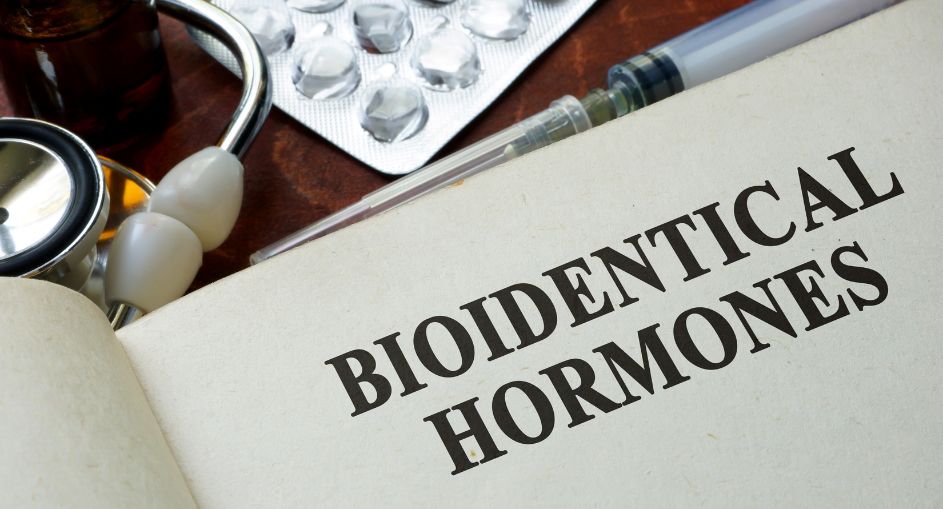 Genemedics Bioidentical Hormone Therapy In Birmingham
There are a lot of hormone replacement clinics in Birmingham springing up, but none with the same comprehensive philosophy as Genemedics Health Institute. We believe in whole-body medicine; we have designed a comprehensive health program that will address every aspect of your health and is guaranteed to reduce symptoms of aging, lower your risk of chronic disease, and help you feel better. Your program begins with your initial consultation, where we will assess your overall health status. We rely on the world's most advanced testing protocols to measure your hormone profile, fitness level including strength and flexibility, nutrient status and disease risk, and overall health. These tests will form the basis of your customized and personalized program. Each of our programs relies on four treatment modalities:
Custom bioidentical hormone replacement therapy
Your doctor will recommend precise and personalized doses of hormones including estrogen, testosterone, pregnenolone, progesterone, DHEA, thyroid hormones, and others. We will aim to restore your hormone levels to those you enjoyed in your twenties and thirties.
A nutrition and diet plan
Good nutrition forms the basis of good health, so our nutritionists will design a customized diet plan that will help you shed weight and regain energy.
A custom exercise plan
Exercise is one of the proven paths to guaranteed better health. Our experts will design an exercise plan tailored to you, and you'll have access to our library of exercises so you are always safe.
A supplement regimen
Study after study has affirmed the benefits of adequate blood levels of nutrients. We'll use your blood test results to recommend doses of vital nutrients, including vitamin D, omega-3 fatty acids, and antioxidants.
Once you begin your program, we will regularly check your progress and alter your doses for the best results. Many of our patients report immediate improvement in their symptoms, with more energy, a better sex life, less pain and fatigue, and an improved mood. If you suspect that you're suffering from premature aging caused by a hormone deficiency, call Genemedics in Birmingham today and set up your initial consultation.